Premier Alaska Hunting Guides
World Class Big Game Hunting


Get the flash player here: http://www.adobe.com/flashplayer
Since 1982 Wilderness Enterprises has been providing world class big game hunting, duck hunting, and fishing in Alaska.
Our big game hunting adventures include Dall Sheep, Moose, Caribou, Bear, Wolf, Goat.
If you are a water fowl hunter, there is no finer hunting for geese, ducks, and ptarmigan anywhere in the world.
Individual and small group guided experiences.
I have spent two great years hunting with Joe and Vickie Letarte Wilderness Enterprises. Joe and his assistants will work hard to make your hunt a success. We were both able to fill our tags with respectable rams. Also on our trips we have seen Moose, Caribou and Wolves and the flight in is almost worth the whole trip. HAVE A GREAT HUNT!
- D. R. Dahlstrom
Joe and Victoria Letarte came to Alaska in 1979 and have been involved in the Big Game Hunting industry since that time. Joe has a Master Guide license with experience spanning from the Brooks Range to the Alaska Range, and from the Aleutians to most of Southeast Alaska. With knowledge of hunting in such a vast area, it has enabled Joe to select the best game rich areas in the state to conduct their business. Currently, hunts are conducted in three geographically different locations, the Alaska Range, the Yukon River Valley and the Tongass National Forest.
In the Alaska Range the focus is on Dall Sheep, Moose, Interior Grizzly, Caribou, Wolf, and Wolverine. This area in the heart of the majestic Alaska Range features broad valleys, sprawling glaciers and abundant game populations that offer quality trophies in an unspoiled wilderness setting.
In the Tongass National Forest, our operations are based out of Yakutat. This is one of the most game rich areas in the world, hosting large populations of Brown Bears, Black Bears, Mountain Goat and the largest Salmon runs found in Alaska. This coastal wilderness of old growth Sitka Spruce in the forelands gives way to the Glacier strewn valleys of the Brabazon Mountains, then rises up toward the majestic St. Elias Range. This mystical wilderness is home to a rare color phase of the Black Bear known as the Glacier Bear only to be found in this area.
Our third area of operation is in the Yukon River Valley. This particular area is one of the most remote wilderness areas left on earth. Our concession of 4.3 million acres is one of the largest Black Bear concessions in the world. This wetland is ideal habitat for Black Bear and hosts the largest population of Black Bear found in North America. The cinnamon color phase is quite abundant in this area also, so along with the large number of Black Bear, this allows for a bag limit of three bears per hunter. A good population of Interior Grizzlies also hold claim to this
remote wilderness area.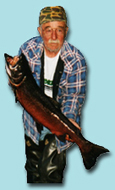 Master Guide & Outfitters
Wilderness Emergency Medical Technician (EMT) Trained

"Authorized Operator - Tongass Nat'l Forest"

"Yakutat Ranger District"
I have hunted with Joe four of the last five seasons. I highly recommend his services for a truly memorable Alaska experience. His equipment is first rate and the food is good and plentiful. You will not be staying in a four star lodge but you will be warm, dry and comfortable and be in some great game country in the mountains. The fishing and hunting in the Yakutat area is outstanding. One other big plus, Joe is an EMT and while I have never needed his assistance it is nice to know it is there as you are a long way from emergency services.
- C. Reilly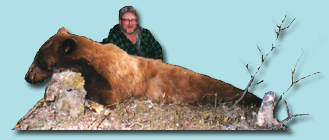 You will experience the finest in Big Game Hunting and Sport Fishing that Alaska has to offer. From the Salmon rich streams of southeast Alaska's majestic rain forests to the mighty Yukon River Valley, our 25 years of experience ensures an Alaskan adventure of a lifetime.
We are dedicated to the Alaska bound adventure traveller and have successfully guided our clients to the most productive big game rich areas of the state.
Wilderness Enterprises offers unparallelled personal service and we dedicate our business to the success and enjoyment of your big game or sport fishing trip.
In three hunts with Wilderness Enterprises I harvested, Two Dall sheep, One caribou, and a Brown Bear, I highly recommend them for any Alaskan Hunt.
Ken Coppens
Hortonville, WI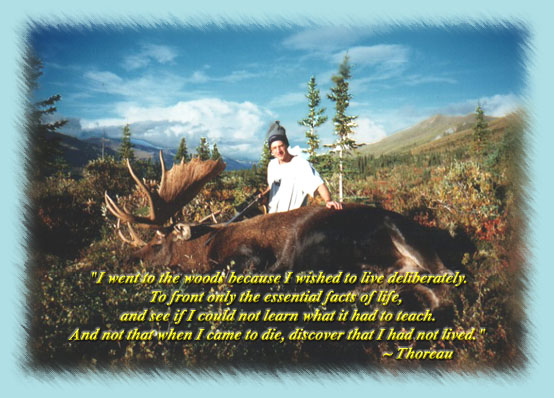 Wilderness Enterprises limits the number of hunters that we take each year to ensure top quality trophies
Call now to reserve your spot for an Alaska trip of a lifetime
---
Wilderness Enterprises
(907) 488-7517
Joe & Victoria Letarte ~ Box 16075 ~ Two Rivers ~ Alaska 99716
letarte@alaska.net
Alaska Black Bear Hunting | Alaska Caribou Hunting | Coastal Brown Bear Hunting | Dall Sheep Hunting | Glacier Bear Hunting
Goat Hunting | Grizzly Hunting | Alaska Big Game Hunting | Alaska Moose Hunting | Alaska Waterfowl & Wingshooting
Alaska Ice Fishing | Alaska Silver Salmon Fishing | Alaska Steelhead Fishing | Alaska Arctic Grayling Fishing | Fairbanks Fishing
Alaska Cutthroat Trout Fishing | Alaska Northern Pike Fishing | Alaska Rainbow Trout Fishing
Scenic Float Trips | Slideshow | Contact | Directions | Film | Hotels | Alaska Hunting Guides